Karriere bei Sacher

Verwirklichen Sie sich selbst in einem anspruchsvollen und teamorientierten Umfeld.

more
Mirror Mount MIDI
Radiant Dyes MIDI Mirror Mount Series
Description
The MDI is Radiant Dye's most popular mirror mount. The mount is available with different front plates (from closed up to two inch) and two or three screws. It is our standard mirror mount which can be used for most applications in the lab.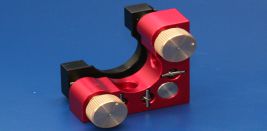 Features
Stable Mirror Mount
Open or closed body plate
Different front-plates available (e.g. 1/2", 1", 1,5")
M6 thread with M4 inner lowering (standard)
M4 or M8 or #8-32 or ¼"-20 thread available on request
Screw Options
Default:
Fine thread screws with 250 μm/turn
Optional:
Fine thread screw with 150 μm/turn
Micrometer screws with 500 μm/turn
Micrometer screws with 250 μm/turn
Micrometer screws with 100 μm/turn

Available from Stock |

Manufactured on Request |

Temporarily not Available
€ = EUR, $ = USD
Last shop update: 09/18/23